ON OCTOBER 18TH, 2011, JENNY LIND, ARTIST AND CO-FOUNDER OF RAINBOW GATE, PASSED AWAY. HER HUSBAND, ALLAN WALTER, AND DAUGHTER, ANNA MASTERSON, ALONG WITH THE STAFF OF RAINBOW GATE, CONTINUE TO OPERATE THE POTTERY IN THE SAME IMAGINATIVE AND IMPECCABLE MANNER AS IT WAS WHEN JENNY WAS ALIVE.
Not far from Santa Fe, on the road to Lower Colonias in the conifer forests high in the mountains above Pecos, New Mexico you might notice one very different kind of metal gate of the type usually seen closing a gap in the barbed wire fences of the ranches out west. This one has its horizontal bars painted the colors of the spectrum. It is the rainbow gate, and beyond it is the home and studios of the artists Allan Walter and Jenny Lind. When they decided in 1994 to start a ceramic art business in Santa Fe, it was an easy decision to name the new enterprise Rainbow Gate, perfectly conveying the artists' sensibility and passion for
COLOR
.
New Mexico's colors are the colors of the sun and the earth and the sky. The colors of Spain. Literally. Look at the flags and you will see the same colors. The golden yellow of the sun and the red of the earth. And then, in Santa Fe, that sky behind the flag! A blue so chromatic that its saturation penetrates through the eyes to the soul. We think of places in colors of their artists. Goya, Picasso and Miro color Spain. Perhaps more than any other, Georgia O'Keefe has colored New Mexico.
In New Mexico colors are revealed by an extraordinary light - light so clear and intense it has always inspired artists – from Anasazi masters to Ansel Adams and Georgia O'Keefe to the not yet known masters working in Santa Fe and Taos today. Illuminated by that extraordinary light, New Mexico works its numinous way with artists. The light sculpts as well as paints and in the art of ceramics, especially, a powerful synthesis of beauty is possible. These things of elemental essences are found in the ceramic art of Rainbow Gate.
Allan Walter and Jenny Lind
are the masters of Rainbow Gate. They have together spent their lives collaboratively evolving a ceramic art that embodies the visual delight and the spirit of New Mexico. Theirs is an original and authentic ceramic art that captures the sense of place that draws millions of visitors to Santa Fe.
From the fleeting intimacy of a hummingbird savoring summer nectar to a quiet meditation of flowers and fruit, or perhaps suspended koi in a liquid pool, or noble and magnificent steeds in a mountain pasture, Jenny's paintings on Rainbow Gate ceramics reveals her mastery of drawing and composition. She has a signature gesture that, wedded to her innate sensitivity to the light and color as a native of Santa Fe, is always lively and fresh.
Allan is the form and glaze master who interprets and translates Jenny's vision to the lasting durability that emerges from the transforming heat of the kiln. From the sculpted curve of a vase to the exquisite fit of images of fruit to the tondo of dinner plates, Allan's hand has touched and his eye directed the happy resolution of form, function and image. His original botanical designs are a hallmark icon of Rainbow Gate dinner plates.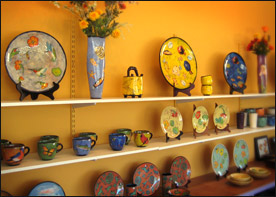 We believe you will find owning
RAINBOW GATE CERAMICS
an esthetically enriching experience. Rainbow Gate's mission is to provide you with beautiful, colorful ceramic dinnerware and related pottery. We are artists who value the meaning and symbolism embodied in the useful objects we make.
Wherever you live, we hope the daily pleasure of a drink from a favorite Rainbow Gate cup or sharing your mealtimes around a place setting of Rainbow Gate dinnerware might also remind you of the beauty in the garden outside your home or perhaps in the faraway mountains you may see from your garden, or even how we share this life with all creatures of the earth.
We invite you to visit us in Santa Fe where we are an easy stroll over the river and off of the Turquoise Trail. If you have visited us, we hope your Rainbow Gate ceramics will serve as a lasting invitation to return to the beauty of Santa Fe and New Mexico.


My experience of growing up in New Mexico has influenced and inspired me throughout my life. When I was a teenager my mother and I lived on the east side of Santa Fe. In the evenings I would often ride my horse Suzi into the foothills and watch the sunset. Western movies have made a cliché of our sunsets, but the reality is that in New Mexico the sunsets are so intense, so crisp and so color saturated that they hypnotically invite you to ride west.

Many times I watched as the Sangre de Cristo Mountains turned not the red of Christ's blood, like the conquistadores thought, but cobalt blue while the cloud filled sky became luminous pink, orange, violet and yellow. One evening, after years of sunsets, the shadows around me momentarily turned a glowing sage blue-green. I was spellbound. Time froze. It was a rare and fugitive moment. They say that in the right places on the sea, say between Key West and the Dry Tortugas, you can see a green flash under just the right conditions at sunset. I relish my blessing to have witnessed the rarest moment of color when the sea's green flash was for an instant with me in the high mountain desert of northern New Mexico.

Fall colors are particularly glorious in New Mexico with brilliant turquoise skies and billowing white clouds. Golden cottonwoods line small winding rivers. The red hills are dotted with fluffy blue-green cedars, and purple asters line the hillsides for miles, punctuated with the diverse complement of yellow wildflowers. If an early frost times himself just right his bite will tip the yellow aspen leaves in the mountains with pink and bronze.

When I was young I thought this cornucopian gift of color was a secret trove only mine. As I grew into my art, I realized that all artists see the world with a special eye, but I also learned that New Mexico offers the artist's eye a color feast unlike no other. At Rainbow Gate our glazes reflect our love of our homeplace and its insistent and vibrant influence on our palette.

The artists and creators of Rainbow Gate are the husband and wife team of Allan Walter and Jenny Lind. They opened Rainbow Gate in the Fall of 1994, now located at the corner of Sandoval St. and Aztec, a few blocks south of the Plaza in Santa Fe. They have always made a living from their art. Their daughter, Anna Masterson, has joined them as a partner in recent years at Rainbow Gate.

She is the oldest of three children. Her sister, Jessie, also an artist, lives in Houston, Texas, with her scientist husband and their 2 children. Their brother, Joshua, an architect, lives with his wife, also an architect, and their 2 children in Seattle, Washington. All of the children have contributed at one time to Rainbow Gate, but it was Anna who became a full partner in Rainbow gate in 1999. She studied art at the University of New Mexico and for a while lived and studied in Portland, Oregon. Her young son Orion adds his sumptuous energy to her life. Now, Anna contributes to Rainbow Gate with her painting, her creative designs and her responsibility as the production manager.

Allan Walter and Jenny Lind established Rainbow Gate in 1994. After years of being studio potters and having had three other small ceramic businesses they knew it was time to step to the next level. Adding employees as the business grew they welcomed their daughter, Anna Masterson, as a full partner in 1999.

Today there are six part-time and full-time employees including Anna, Jenny and Allan. Anna runs the production, paints and also contributes ideas for the designs. Allan and Jenny are responsible for the designs and ideas that drive the ever-evolving patterns and forms of the dinnerware. Simple shapes are deliberately chosen to better show the color and motifs that are painted on them.

Rainbow Gate employees, many of whom are artists themselves, are a dedicated, multitalented group. Rainbow Gate counts itself privileged to have such employees. All the work is made, painted, glazed and fired in our kilns at Rainbow Gate in Santa Fe. The colored clay slips that are used to paint with are made exclusively in house. Every piece is handmade and painted with multiple layers of color to develop a rich color field. The ware is made from strong, chip-resistant, low temperature clay that is not only functional, but also durable. It is painted with a safe, non-toxic lead-free glaze.

At Rainbow Gate every piece is inspected at each stage of the creative process. Cups can be used in the microwave, however we do not recommend the use of our plates in the microwave because the flat shape can't distribute the heat rapidly enough which sometimes causes breakage, and for this same reason we also do not recommend use of any of the ware in the oven. Please refer to the FAQ section for dishwasher use information.

Small surface flaws are inherent in handmade clay objects so sometimes the work will have slight irregularities. This is a hallmark of individually made ceramics and contributes to their esthetic appreciation. We always carefully scrutinize all work before it leaves our studio so we know that the work has been completed to the highest standard of ceramic art production. We stand behind our work. If for any reason you have a problem with our work, please contact us.

If you are a new customer, we welcome you. If you are a returning customer, we welcome you. We are grateful for your interest and support. Please stop by our studio and showroom at 320 Sandoval Street when you are in Santa Fe.