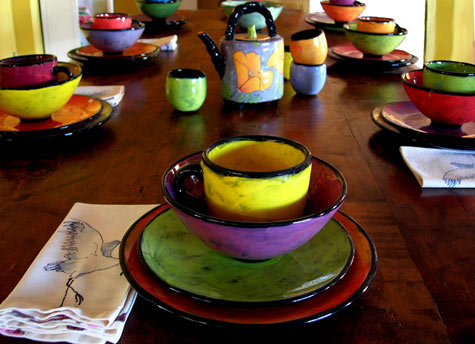 Rainbow Gate dinnerware is made from strong, chip-resistant, low temperature clay which makes it not only functional but durable. The work is handmade and painted with layers of color to develop a rich color field. There are 16 intense, vibrant colors to choose from.
If you are considering a dinnerware service, we suggest you pick your colors first and then select the type of dishes (bread plate, salad plate, dinner plate, medium platter, large platter, dessert bowl, salad bowl, rice bowl, medium bowl, large bowl, pasta bowl, tea bowl, "J" cup, "A" cup, large cup). When setting the table, you will have the option of creating each place setting with all one color or mixing the colors as shown in the picture.

HOW TO ORDER: Click on a shape BELOW for DETAIL page to see enlargement, to choose color, select quantity and then order!