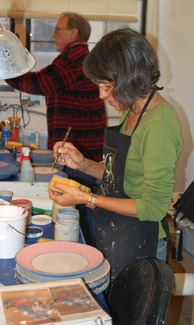 How long does shipping take?
If the product is in stock, we try to ship the next day.

What do you charge for shipping?
Due to the fragile nature of ceramic dishes, double boxing is required. We charge 18% of the total cost for both packing and shipping with a $20 minimum cost.
However, shipping to Hawaii and Alaska is determined on an individual basis and is more expensive. Customer's will receive a phone call with the additional shipping cost.

Note: We use Fed Ex to ship our product. Fed Ex does not deliver to P.O. Boxes. When ordering please use a street address

What form of payment do you accept?
Visa and MasterCard.

When I register, what happens to my information?
We obviously keep a record of our transaction, but we do not share the information with anyone.

What is our return policy?
We will refund the returned item's price, less the cost of shipping. We don't exchange. When returning items, please pack carefully as we cannot refund money for broken pottery. We suggest using the original cartons for return.

What about a catalog?
There is a catalog currently on our web site that can be printed out in a PDF form. Not all items in the catalog are available to please call or email us with questions.

Who do I contact for help if I am having trouble with an order?
Please call the desk for help. (505)983-8892

Can these pots go in the microwave?
We only recommend putting cups in the microwave. The problem with the plates is that sometimes the combination of cold food, rapid heating and its flat shape creates a problem of heat distribution and the plate can crack. This is true for most ceramic plates. We also do not recommend the ware for use in the oven.

Can these dishes go in the dishwasher?
Due to a wide range of contributing factors, we cannot claim the dishes are "dishwasher safe". Corrosive detergents, softness of the water, too much detergent, very hot water, and other factors beyond our control can lead to deterioration of the glazed (glass) surface. We are aware of automatic dishwashing soaps, such as ECOVER and BI-O-CLEAN, that claim to prevent deterioration ("etching"), but we do not have any experience with these products as we don't own a dishwasher. We wash our dishes by hand and have not had any problems.

Are they durable?
Yes, they are very durable under "normal" use and yes, they will break if dropped on a concrete floor.

Are they meant to be used?
Yes, they are useful for food and the eyes as well.

Are they food safe?
These dishes are non-toxic and lead free.

Do we discount sets of dishes?
No.

Do we have problems shipping?
No. We pack very carefully, and of course, insure the work.


PRODUCT AVAILABILITY INFORMATION

We will ship immediately if product is in stock. Please be aware we are a small, hands on business and every thing is made and hand painted in our shop in Santa Fe. If we don't have an item, it usually takes 6-8 weeks delivery time. If something is ordered and we are out of stock, we will notify via email the expected shipping time and determine whether the customer wishes to continue with the order.